Tile and Grout Cleaning and Sealing
Serving Concord, Martinez, Pleasant Hill, Walnut Creek, Danville, Alamo, Blackhawk, San Ramon, Dublin, Pleasanton, Livermore, and the entire East Bay area of Northern California/ CA
Why is it important to have my tile and grout cleaned by professionals? When I can mop, and clean it myself?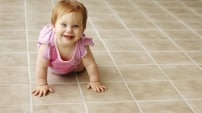 Yes, of course you can get your tile and grout clean by mopping everyday. Although, mopping can transfer dirt from one area to another. And what about those difficult spots? You could keep getting on your hands and knees, to scrub them out. But who wants to do that all the
time? Not only is it hard on your body and lets admit it, exhausting! It's still not going to get cleaned as well as a professional.
Grout is very porous and it is easy for oils and dirt to seep in over time. At Brite Steamer we do exactly what our name says, we use STEAM to professionally clean your tile and grout. We offer clear sealing which will protect your grout. And color sealing can bring back the vibrant color to your grout, making it look brand new. Both clear and color sealing, will add to the longevity of your grout.
No only will you have really clean tile and grout floors, showers and/or counter tops, your knees and hands will thank you for it.